Cars that emit up to 18 times the official NOx limit in real-world conditions are still being sold, 20 months after the emissions scandal broke and amid an ongoing air pollution crisis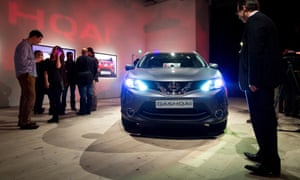 Diesel cars that emit up to 18 times the official limit for toxic pollution when taken on to the road are still being sold, 20 months after the emissions scandal erupted and amid an ongoing air pollution crisis.
In real world conditions, the Nissan Qashqai produces 18 times more nitrogen oxides than the official lab-based test allows under EU directives, while Nissan's Juke pumps out 16 times more NOx pollution than the limit, according to data from vehicle testing company Emissions Analytics seen by the Guardian.
Further data reveals Renault's Mégane and Captur models both produce 16 times more NOx when on the road. Overall, the data shows that 80% of new diesels on the market in the last nine months fail to meet the official limit when on the road.
A separate analysis from campaign group Transport & Environment (T&E) estimates that there are now 5.3m dirty diesel vehicles in the UK that exceed official NOx limits when on the road. Across Europe, the number is 35m, an increase of 6m in the last year.
The vehicles pass legal tests, which are currently lab-based. But when driven in real conditions their emissions control systems are often switched down or off, to save money or servicing costs, often resulting in very high levels of toxic fumes.
This has led to illegally high levels of NOx in most urban parts of the UK and, according to a parliamentary report a year ago, a "public health emergency". The government has been twice defeated in the courts over the adequacy of its response but its latest plan was dismissed as "weak" and "woefully inadequate".
Ministers from the 28 EU states are meeting on Monday to agree on reforms to the emissions testing system. But Germany, home to several major car makers, is blocking tougher emissions checks, according to T&E.
The continued sale of highly polluting diesel cars is surprising, said Nick Molden, at Emissions Analytics: "The technology to clean up diesel emissions has existed for quite a long time." Many diesel cars sold in the US have had real emissions under the official EU limit for a decade, he said.
But in Europe, car buyers often face a huge disparity between officially published emissions and actual emissions. "People are just groping in the dark and that has to stop," said Molden, whose company's Equa Index website rates more than 330 recent diesel cars.
He said software upgrades from manufacturers would quickly and significantly cut the emissions of many existing diesel cars: "What you can do is turn up the effectiveness of the emissions reduction technology – it's almost like a volume knob – and that is a software change. If they turn up the volume, you have a clean car." But apart from cars from VW, which was caught blatantly cheating, few vehicles in Europe have been recalled.
"The inaction in Europe compared to the other side of the Atlantic is shocking," said Julia Poliscanova at T&E. "These [cars still being sold] will continue to pollute the air for decades to come. No effective action such as recalls or approval withdrawals have taken place on the vast majority of these dirty diesels that continue to pollute urban air unpunished."
Spokesmen for Nissan and Renault said all their cars met current legal limits and that the companies strongly supported new, on-the-road tests that enter force in September for new approvals of car types and for all cars being sold 12 months later.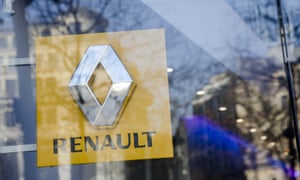 A spokesman for Renault said: "Measures which significantly reduce NOx emissions in real driving conditions have been gradually deployed in production from July 2016. The vehicles in the quoted [Emissions Analytics] test results have not benefited from these measures."
Mike Hawes, chief executive of the Society of Motor Manufacturers and Traders(SMMT), which represents car makers, said: "The differences between official laboratory tests and those performed in the 'real world' are well known, and industry acknowledges the need for fundamental reform." He added: "We can't comment on results from non-official [Emissions Analytics] tests where the methodology is unclear."
Molden said the real-world methodology used by Emissions Analytics is detailed on its website and that the SMMT had not accepted repeated offers to explain it in person: "They are not looking at our website and have turned down our invitations – I don't know what more I can do."
Since you're here …
… we have a small favour to ask. More people are reading the Guardian than ever but advertising revenues across the media are falling fast. And unlike many news organisations, we haven't put up a paywall – we want to keep our journalism as open as we can. So you can see why we need to ask for your help. The Guardian's independent, investigative journalism takes a lot of time, money and hard work to produce. But we do it because we believe our perspective matters – because it might well be your perspective, too.
If everyone who reads our reporting, who likes it, helps to support it, our future would be much more secure.
Source : www.theguardian.com